The Five Pillars of an Effective EPM Strategy: Adopting a "suite" approach to Oracle EPM integration
In today's economy, corporations face constant pressure to respond to changing market conditions. In many industries, companies have also been asked to increase transparency in such areas as Sarbanes-Oxley compliance, SEC reporting, and regulatory disclosures, to name a few. Reducing or eliminating manual processes of financial analysis enables organizations to spend less time aggregating results and more time analyzing information for business insights. This is the primary goal of Enterprise Performance Management (EPM). By arming its financial area with integrated tools to uncover trends, a company can quickly alter its business model and focus its resources on the most profitable areas. This can also help the organization identify and avoid emerging risks.
Oracle has one of the most robust sets of EPM solutions available on the market today. These solutions are targeted to mitigate the major pain points all enterprises share:
Doing more with less in a cost-conscious environment
More accuracy, fewer manual errors, consistent views
Responsiveness to economic change, including deeper and faster insights
The Oracle EPM suite of integrated components is modular and can be tailored to any business. The suite comprises parts that can be as simple as targeted tools to aid an existing process or complete applications to deliver specific business value. In combination, the suite covers the five key pillars essential to a comprehensive EPM solution: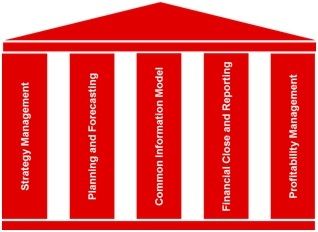 Pillar #1: Common Information Model
A Common Information Model is the central pillar supporting Enterprise Performance Management. Its focus is on standardizing the data governance aspect of consistent master data across an organization. It's vital to have tools that provide a single platform to centrally manage critical enterprise metadata definitions and structures. This structural management process needs to be transparent as well as flexible, to present all needed business perspectives (including alternate hierarchies) in a controlled and audited fashion. A common model ties reporting together across data marts, reducing reconciliation steps and increasing confidence in the information.
Pillar #2: Financial Close and Reporting
Financial Close and Reporting targets actual results, spanning from speeding the financial close cycle to consolidation, analysis, and reporting aspects. Applications and tools that improve transparency and accuracy in these processes are fundamental to an organization in understanding what has happened.
Pillar #3: Planning and Forecasting
Planning and Forecasting is focused on the tactical vision of what will happen. An intuitive, centralized solution with driver-based planning capabilities enables a company with dynamic operational planning and gives it the ability to evaluate the impact of multiple scenarios on financial results.
Pillar #4: Strategy Management
Strategy Management represents a longer-term planning roadmap for an organization. It integrates corporate strategies (target setting, long-term capital projects, treasury requirements, etc.) and economic modeling into setting the course for an enterprise.
Pillar #5: Profitability Management
Profitability Management is concerned with adding detailed insight into profitability and costs across an organization's products, services, and customers. A flexible allocations platform is necessary to support any modeling method or combination, including activity-based costing and time estimation. A critical requirement to eliminate error-prone distributed models is a centralized application that has a powerful business rules engine to calculate complex, multidimensional allocations with speed and accuracy. This modeling can provide deep insights into profitability and the drivers of costs.
Individually, all of the EPM pillars add value, but together they can have a far-reaching impact, helping organizations adjust and thrive during times of constant change. Consulting organization CTI specializes in helping companies implement and customize EPM solutions around these pillars.