One More Case for Clinical Big Data Analytics
As Big data is beginning to transform the sales and marketing functions, more and more clinical and pharmaceutical decision makers are turning their eyes on the potential opportunities for their cases. The opportunities seem to be even more compelling in highly complex scenarios and environments, where data is being originated, processed and analyzed between from a varieties of high volume sources.
To demonstrate the potential of the big-data analytics, in the following example, we processed and analyzed public data including National Institute of Health (NIH) and Food & Drug Administration (FDA) sources. The information was further enriched and augmented.  We tapped into a vast ocean of the unstructured data coming of different variety and velocity: industry analysis, key opinion leader (KOL) articles, publications, focus websites and groups.
The illustration below demonstrates the result—a dashboard—correlating prescription drug usage and patient conditions with Parkinson's disease cases.  The interesting part of the visualization is a blend of the quantitative and qualitative data interpretation. The visualizations help quickly assess the magnitude of issues, publications, and other mentions with regards to the disease.  IT also provides the numbers and the details of clinical studies on each drug's effects.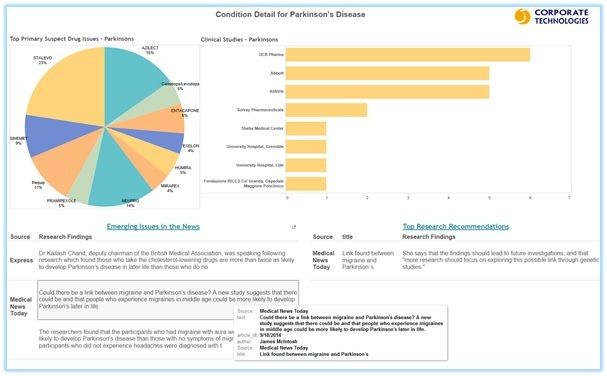 The unstructured data is further used for additional recommendations, specifics and the findings within the cited articles.  Each article item is parsed and described by meaningful metadata: the author, the publisher, media and other tags. That in turn allows the users to follow the publication, engage with the contact to reveal more details.
In the same way a broader data lake of data can be incorporated into the analysis—we are looking at the sentiment of social media and patient advocacy group opinions.
The analytical opportunities are countless, and becoming possible with the advent of Big Data solutions like Hadoop, which helps with managing structured and unstructured data ingestion, storage, computing and correlation.
If you want to learn more about this and discuss more opportunities, please visit us at the BIO IT World Conference in Boston, April 5-7, 2016.  We are at booth 125 & 127.
In our next blog we will describe the technical architecture enabling efficient Big data and storage deployments in your organization.