Fresh off the ASUG NYC Workshop: 4 more reasons to adopt SAP Lumira version 1.28
We thank those of you who were at our session at the recent ASUG NYC workshop for attending. In that meeting, we touched on some of the challenges that SAP users face, including the challenge of technology adoption. But there's more to that story that we'd like to share with you now.
In a fast-paced and competitive world of analytical and visualization platforms, what matters most is the vendors' ability to respond to market needs. No business intelligence (BI) tools are perfect, and their constant improvement and resilience in change help drive advancement and user adoption. Each vendor has its own way and pace of support and maintenance when it comes to driving its product innovation.
The recently released 1.28 version of SAP Lumira is one example that demonstrates how the company is responding to market needs. The tool provides a rich set of data preparation, self-service, exploration and visualization capabilities by embracing the concept of decentralized, or "citizen," analytics within a governed BI framework.
While there are many enhancements to Lumira 1.28 offered, here are four that we think are most noteworthy.
1. Combined stacked column line charts 1 or 2 axis
This is a very welcome functionality that allows users to plot stacked distribution of one measure against a measure of a different granularity or role. In this example, the sales deal by status is compared with the goal lines.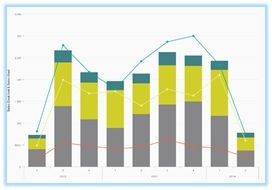 2. Cross-tab table action items and drill-down functionality
A table-style representation of data is one of the visualizations catering to a traditional reporting user. The recent enhancements include interactive actions, filtering and exporting data through the right-click, contextual menu. The drill-down functionality for cross-tabs is also enabled from the metric shelf.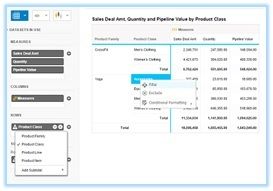 3. Enhanced rule management
The end user can apply business rules and custom formatting to many visualization types, including column, bar, pie and date/timeline charts.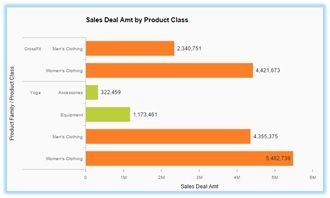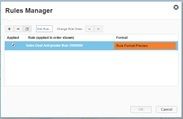 4. Robust governance
Refreshing Lumira documents with the universe query panel advanced parameters will enable prompts in the runtime. BI scheduled jobs can refresh documents based on Excel, CSV and text data sources. This is a significant enhancement driving the reusability and management of Lumira documents and queries in the governed environment.
Lumira content can be governed through the BI platform promotion and release management tool in SAP Business Objects. The documents can be promoted between dev, test and production environments along with the dependent UNX universes, connections and support for object security.
What's the result? The SQL data sources now can be edited and changed by the end users, and user stories can be exported directly from the story viewer.
It's clear that Lumira 1.28 has added new value and functionality for the end user in the form of enhanced governance and improved functionality. In our next post, we will discuss the benefits of the product for data exploration and preparation.